Factors Influencing the Utilization of Antenatal Care Services in the Bosomtwe District of the Ashanti Region of Ghana.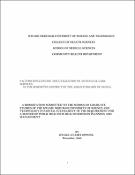 Authors
Abstract
In the year 2005, the Bosomtwe district recorded six (6) maternal deaths. The causes of death included severe anaemia, postpartum haemorrhage, severe diarrhoea and pulmonary embolism. In addition, the district had witnessed a downward trend in antenatal coverage (from 84% in 2004 to 75% in 2005) and supervised deliveries. There had also been an increase in still births (from 15 cases in 2002 to 25 cases in 2005). It was in the light of all these happenings that a research had to be carried out to ascertain reasons why pregnant women and mothers did not utilize Antenatal care services which could help curb these unfortunate situations. This study was carried out to ascertain the factors influencing the utilization of antenatal health services in the Bosomtwe district. Information was elicited from 300 randomly selected respondents. The respondents were either pregnant women or nursing mothers who had given birth within the last twelve months of carrying out the research. The researcher carried out Face–to–face interviews with respondents using a questionnaire. Poor utilization of ANC services was associated with poor education of women on ANC(20.7%), low socio-economic factors (58.7%) far distances with poor roads patients had to travel to health facilities(36%), beliefs that certain ailments were spiritual and could not be treated in a hospital(41%), lack of adolescent friendly ANC and attitude of some health staff. Higher levels of education generally improved ANC attendance, particularly early booking for ANC. Hospital workers, husbands and parents were the greatest influence on ANC attendance. Universal education of the women, improved health education, free ANC services and the construction of health facilities in certain communities were significant suggestions made by the patients for improving the delivery of antenatal care.
Description
A Dissertation submitted to the School of Graduate Studies of the Kwame Nkrumah University of Science and Technology in partial fulfillment of the requirement for a Master of Public Health In Health Services Planning And Management.
Version History
You are currently viewing version 1 of the item.
| Version | Date | Summary |
| --- | --- | --- |
| | 2011-07-12 12:18:12 | |
* Selected version